Dear friends! Another exceptional year for Verge3D community comes to a positive end. We saw lots of new web interactives created, tons of new plugins developed for Verge3D, and masses of new users started learning the toolkit. It was a great time for us too.
Achievements in 2021
Our company Soft8Soft met considerate commercial success this year. We were able to focus exclusively on Verge3D development and support, since the proceeds from licensing now fully cover our expenses. We hired additional staff including a new programmer, and intend to further extend our operations in the next year.
In 2021, we managed to make 4 huge releases. The most important features include area lights, creating desktop/mobile apps, e-learning with SCORM, dynamic text geometry and 3D UI, improved ambient occlusion (GTAO+GTSO), AR on iOS Apple devices with USDZ, light probes, clipping planes, ~70 new shader nodes, and the upgraded plugin system. The full list of features is significantly more comprehensive than one from the previous year. We also launched v3d.net link shortener, and set up the Verge3D Wiki that has several dozens articles already.
Snowballs VR
Today we'd like to present you with another demo application that we created to showcase the codeless VR capabilities of Verge3D. Understandably, it is Xmas-themed, so you might put on your VR headset such as Oculus Quest right now (can works without VR too). Pick up a snowball gun and fend off those sneaky snowmen that pop up in the woods!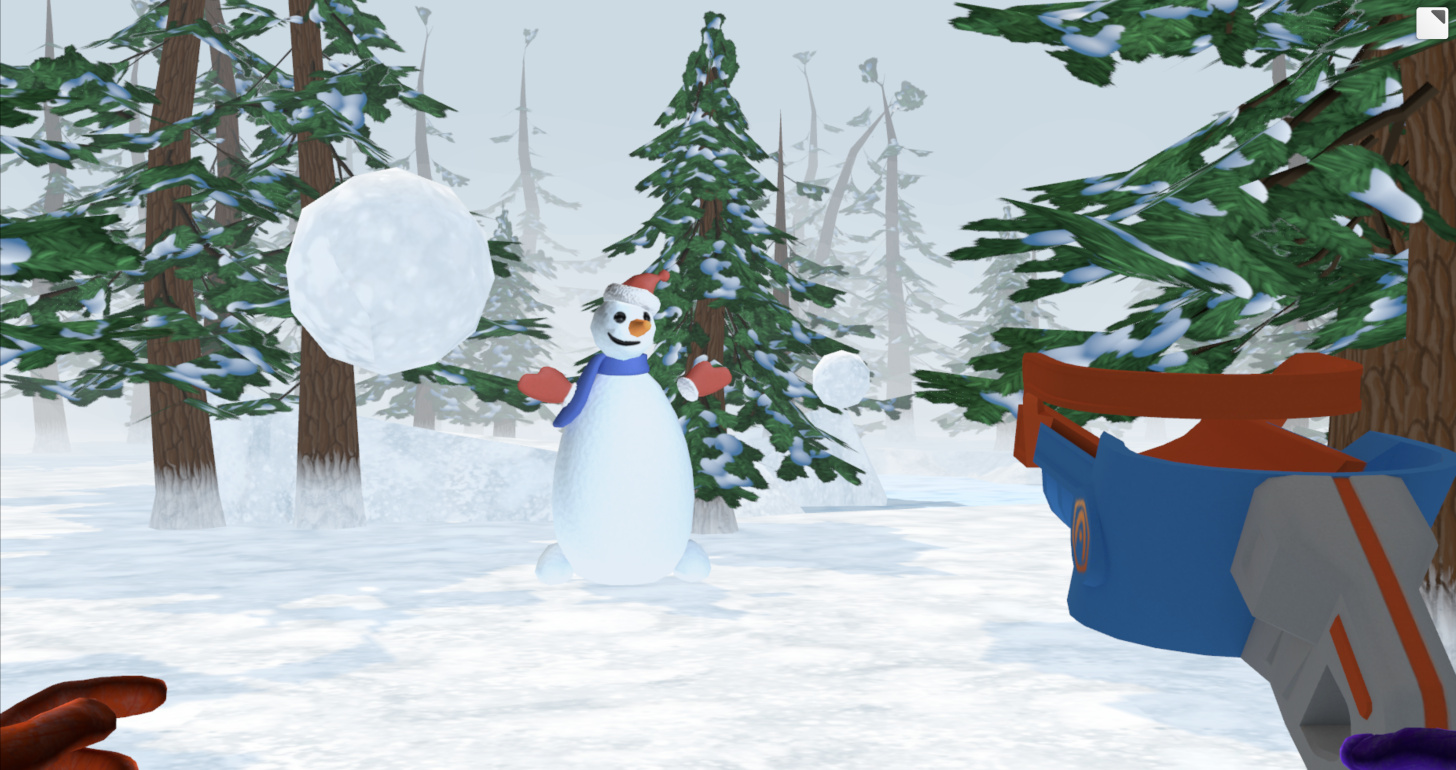 Launch the game in your browser! Here is also a short link for faster typing in Oculus: v3d.net/snow
Oculus controls: stick on either controller – walk/strafe, grip on either controller – pick up the snowball gun, trigger button on either controller – shoot.
Desktop controls: WASD – walk/strafe, Shift – run, Space – jump, LMB – shoot.
Download the project files from here.
Roadmap: Verge3D 4.0
We are planing to make a major update to Verge3D in the beginning of 2022. Verge3D 4.0 will (hopefully) bring updated Blockly, Three.js and the glTF loader. There will be a folder for user applications outside the system directories, and the examples will be separated from the distribution as separate packages. We will also drop support for legacy browsers (such as IE 11) and will employ modern JavaScript syntax and features.
In the meantime, we wish you great holidays and a Happy New Year! See you soon!