This interactive scooter application is a remarkable advancement not only for Verge3D but for the entire 3D web industry. Realistic PBR materials, code-less interactivity, responsible HTML-based UI and more than a million possible combinations implemented in this lightweight 3D product customizer that loads only 10 Mb upon startup!
See this short video overview to grasp its major features and capabilities.
The Scooter is offered in 14 colors, 6 seat leather types, 12 types of wheels + 5 tires, 4 windshields, 2 ways to position the side mirrors, several types of front and rear racks and other options to personalize your vehicle.
The app also features HDRi lighting (that allowed us to get rid of all lamps), good-looking post-processing called Bloom, new puzzles for modifying materials without replacing them, the puzzle for loading textures on demand, edited vertex normals and other functionality. Everything was designed and implemented from scratch and without any programming by a single artist in just 8 weeks.
Moreover, the HTML-based UI for this app has been implemented with the third-party web builder Webflow and linked to the logic using Puzzles – no coding required either!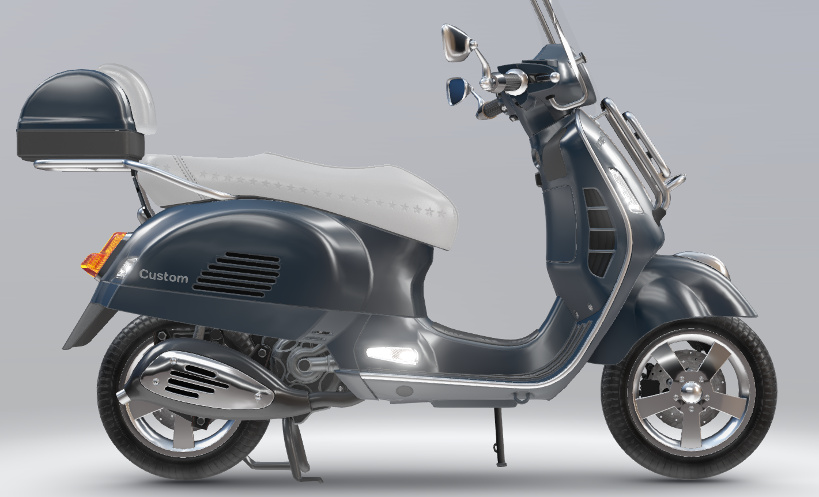 It does not matter whether you are a Blender, 3ds Max, or Maya user, you can achieve the same level of realism and attractiveness in any of these graphics packages.
Check out the Blender, 3ds Max, or Maya version of this customizer online.
And here is the juiciest part. Since this app is available in Verge3D for free, you can download its sources and start learning how it works right now! Moreover, you can use it as a basis for your own beautiful customizers or interactive product presentations.