Dear friends!
Just a few days left until the end of this year, yet we have some updates for you.
First we'd like to present you this beautiful interactive 3D postcard. We think it will bring you some joy this Christmas!
Another thing is a small maintenance release of Verge3D. In version 1.0.3 we made some great improvements and fixed many annoying bugs – see below for the changelog.
Also the period of discounts is coming to the end. December 31 is the last day you can purchase the Verge3D with 30% discount. Hurry up, if you haven't yet become our customer.
We wish you a Merry Christmas and a Happy New Year!
Verge3D 1.0.3 Changelog
Open Graph and Twitter meta tags were added for player-based apps, so that when you share them in social media a proper description and an image will be displayed in a post.
Longer annotation names are now possible.
Transparency Blender settings were reworked and simplified. We also fixed alpha clip (aka 'Mask') transparency which didn't work for node-based materials.
Fixed interpolation errors in Vector Curves and RGB Curves shader nodes.
For multi-scene applications, Puzzles now correctly detect the main scene which they relate to.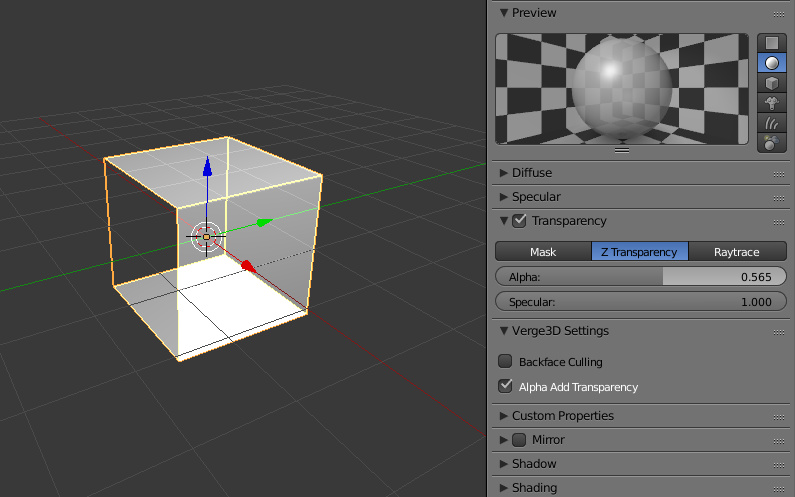 Fixed fullscreen button behavior when a user exits fullscreen mode with the 'Esc' key.
The 'tween camera to' and 'look at' puzzles can now handle flying and static cameras.
Now if the App Manager does not have sufficient permissions to access the Verge3D installation directory (for example, if Verge3D was installed in a system folder like Program Files), a corresponding warning is displayed. It is still possible to operate the App Manager in the read-only mode.
Fixed Puzzles saving bug in the Firefox browser. Also fixed Puzzles saving when the URL includes an anchor part (that is, when the # symbol is present in the URL).
The 'Save' button in the Puzzles editor is now grayed out when it appears that there is nothing to save.
By the way, the source files for the X-Mas app are available in the updated Verge3D distribution as well. Perhaps a good chance to try Verge3D Network's sharing feature in action?