Discover a 3D interactive version of the periodic table made by Flinn Scientific!
The modern periodic table has expanded beyond Mendeleev's original version. The most current version contains 118 elements including 4 new elements discovered in recent years. By using this application, students and scientists can visualize various characteristics of elements such as atomic radii, electronegativity, ionization energy, and electron affinity.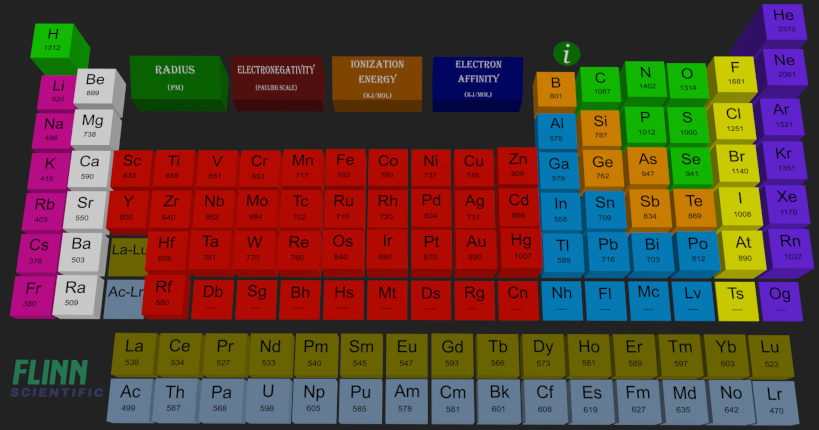 This content runs in the standard web browser and can be linked from a school website so that students can access it any time from class rooms or from their homes. Such application can also be displayed on an interactive whiteboard (IWB) to be used by the teacher.
Such game-like experiences are rather appealing for students and stimulate their interest to explore the learning topic deeper.
Check out the live version of this interactive online.
The US company Flinn Scientific (Batavia, IL) is the leading scientific equipment supplier in the educational market. Flinn has a long history of providing top-of-the-line products such as classroom equipment, laboratory supplies, books, posters, and many other learning materials.
This application is a vivid example of how interactive learning materials can easily be created with Verge3D. Thanks to the intuitive visual logic editor Puzzles, no deep knowledge of web technologies or programming skills are required to make rich 3D web content.